A Modern Ukrainian Community
The School of Ukrainian Studies is first and foremost a warm community of families that value bringing the culture and language of Ukraine to their kids. Some families speak fluently at home and are hoping to encourage more reading and writing, while other families speak English at home and this is their only form of Ukrainian instruction.
In all cases our goal is to help your children love this school and love the Ukrainian language and culture. Our teachers meet children wherever they are in their language ability and inspire and motivate their learning in positive ways that keep students coming back year after year.
In the heart of New York City's "Little Ukraine"
The School of Ukrainian Studies is located in New York City's "Little Ukraine" neighborhood of the East Village, steps away from famed Ukrainian restaurant Veselka, and Ukrainian grocer East Village Meat Market. Enjoy their smoked meats, blintzes, kapusta and vereniki just like бабуня used to make!
New York City's first free public library is just across the street (Ottendorfer Branch) and stocks a fantastic selection of children's books in Ukrainian.
The Ukrainian Museum on 6th street offers a deep look at traditional and modern Ukrainian art.
Other Popular Youth Programs Nearby
Many students of the School of Ukrainian Studies at CYM participate in other fun programs that help them learn new skills, build character and enjoy lasting friendships. These include:
CYM, a Ukrainian culture, sports and education organization hosted on site at UAYA after school
Plast, a Ukrainian scouts program hosted a few steps down the block after school (and during a summer camp upstate)
Roma Pryma Bohachevsky, a Ukrainian ballet and folk dance company with practice on Saturday afternoons (and a summer camp that the New York Times called "Ukrainian Hogwarts"
Interested in soccer and volleyball for your children? Ukrainian Sports Club (YCK) has open registration available online now! Classes start Saturday September 7.  Youth soccer (ages 5-12) and volleyball (ages 13-18) will start Sept 7. For more information, contact bohdanpryjmak@yahoo.com.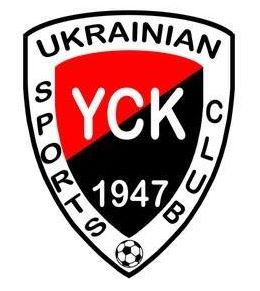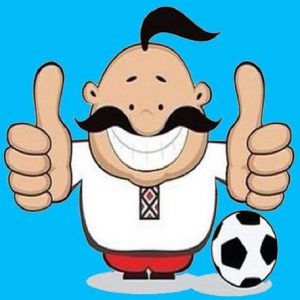 Interested in having your children sing in Ukrainian? Moloda Dumka has rehearsals in the East Village on Saturday evenings, for children ages 7 and up: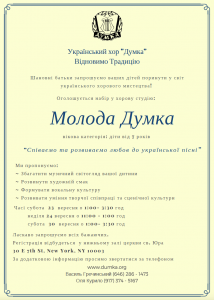 I