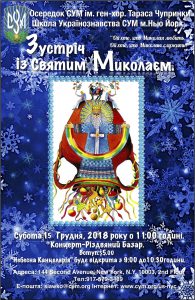 Ми очікуємо прекрасний Різдвяний Концерт. Діти і вчителі завзято працювали вчивши вірші, пісні і готували виступ.
Закінчення науки на 2018-Final day of classes for 2018
Saturday December 15th, 2018 at 11am
Holiday Concert, Bazaar, and meeting of Saint Nicholas!
Entrance Fee: 5$; plus 5$ per gift per child if bringing a gift for Mykolai to distribute to the children
(ALL proceeds benefit our shkola)
Location: Ukrainian National Home – 144 2nd Avenue, 2nd Floor
Contact for further information: Slawko@cym.org
Special Guests, Koliadnyky: Ukrainian Village Voices
Need some great holiday gifts? Holiday shopping is possible at this event with Irka Tkachenko's fabulous jewelry line ( Irka Design Jewelry), Ukrainian children's wreathes (Vinky) courtesy of Oksana Vovk, and CDs/Tshirts/magnets/buttons from Ukrainian Village Voices. 
Please have your children wear their vyshyvanky (embroidered blouse/shirts).
*********************************
В п`ятницю 14 грудня, після 6 ввечері ми почнемо декорувати Український Національний Дім ( 2 поверх). Прикрашання залу продовжиться 15-го грудня зранку з 9-11 години. Просимо повідомити Славка якщо ви зможете прийти і допомогти slawko@cym.org. Ваша допомога важлива!
Розклад:
Вхід 5$ з людини
Батьки приносять подарунки для дітей які передадуть Святому Миколаєві щоб подарувати дітям в кінці концерту. Цього року Петро Сабат буде завідувати подарунками. Просимо принести подарунок для вашої дитини до Петра в Український Національний Дім між 9-1030 ранку в суботу 15 грудня.
Загорніть подарок і напишіть ім'я дитини, клас і вік чітко на подарунку.
По одному подарунку на дитину.
Не приносіть подарунки дуже великі або з багатьма маленькими частинками.
Кожна дитина піде до Миколая раз. Майте фотоапарат готовий щоб робити фотографії.
Цього року за дитячий подарунок з дитини ми збираємо 5$. Кошти підуть на школу. Дякуємо за вашу підтримку і щедрість.
-Закликаємо батьків принести печені вироби які ми будемо продавати з кавою.
-Будь ласка - щоби діти носили вишиванки!

-Ми запрошуємо продавців на свято також. Можете придбати подарунку на свята. Поки зголосилися Ірка Ткаченко з прекрасною біжутерією що можна переглянути на сторінці Irka Design Jewelry , Оксана Вовк буде мати вінки з України, буде намиста, закуски, і Уляна буде мати товари (музику -CD- та cороички) з Ukrainian Village Voices. З питаннями звертатис до Уляни.
-Ми продовжуємо приймати пожертви на оновлення нашо школи на концерті! Марія Роз буде відповідальним. Будь ласка, підійдіть до неі зі заду залі.
-Допомога всіх в кінці концерту є дуже важливою! Треба допомога складати крісла, прибрати і зібрати сміття. Дякуємо всім за допомогу!
************************************
We are anticipating a great time at our annual Christmas Concert. The children have been preparing their poems, songs, and plays, and the teachers have been working very hard to make it a success. We also need the parents' help to have this run smoothly!
On Friday December 14th, after 6pm we will start decorating the Hall at The Ukrainian National Home (2nd floor). We will continue to prepare and decorate the morning of December 15th as well (9am-11am). Please let Slawko know (Slawko@cym.org) if you could make it (Slawko@cym.org). The more hands the better!!
Guidelines for the event:
– Entrance will be 5$ per person
-Customarily, as parents, we bring gifts for our children to pass along to Sviatij Mykola (Saint Nicholas) to distribute to the children at the end of the concert.  This year, Peter (Petro) Sabat will be in charge of coordinating the gifts.  Please do the following:
Bring your child's gift to Peter at the Ukrainian National Home, 2nd floor, between 9-1030am on Saturday Dec 15. Please do your shopping ahead of time!
Have the gift wrapped, and clearly write the name of your child, their class and their age on it.
One gift per child please
Do not get anything too complicated with multiple parts (so nothing gets lost) or anything too big
Every child gets to go up once to greet Sviatj Mykolai. Have your cameras ready if you want that special photo!
This year if you bring a gift for your child, we kindly request you donate 5$ (in addition to the entrance fee). All proceeds benefit shkola!! Thank you for your understanding and generosity.
-Parents are encouraged to bring baked goods, as we will be selling light snacks and coffee, etc.
-We welcome vendors to this event as well!  You might find some great holiday gifts here! Thus far we will have Irka Tkachenko there with her fabulous jewelry line (check out Irka Design Jewelry), Vinkos from Ukraine, swag (CDs, Tshirts, etc) from Ukrainian Village Voices.  If you have advance questions about these two vendors, contact Ulana.
-We will continue to accept donations to renovate our school! See Maria Rose by the vendors. We plan to start renovations over the holidays!
-We would appreciate everyone's help at the end of the event to help clean up and put away chairs.  Follow other parents' lead, pick up the wrapping paper, throw out garbage and let's help one another get the Hall back to the way it was when we arrived.  Thank you for your cooperation.
**********************************************
Календар – Calendar
Dec 15: Mykolai concert (classes from 9-1030am, then teachers bring the children to the Ukrainian National Home)
Dec 22, Dec 29, Jan 5: No classes/Winter recess
Jan 12: Classes resume
Jan 19: Classes, Rodyna Malanka 3pm until evening
Jan 26: Sviato Kruty  – trip to Oselia CYM Ellenville, NY. For those not going on the trip, there will be classes still in session!!